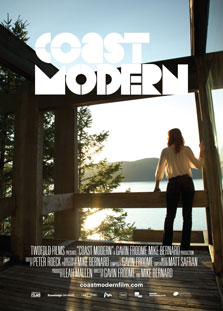 Coast Modern is an independent documentary by directors Mike Bernard and Gavin Froome. Travelling along the Pacific North West coastline from LA to Vancouver, the film showcases the pioneers of West Coast Modernist Architecture, and the homes that have become their legacies. Stepping inside the most inspired dwellings on the west coast, we feel how the light and space of a classic Modernist home can work in collaboration with the natural environment. Dion Neutra tells us that the way to live is to have 'the comfort of being inside, yet you have the feeling of being outside', and it is this established principle that contemporary Modernist architects are emulating and evolving.
This relaxed journey takes us across three generations of Modernist architecture, all finding beauty in their own times, and all taking us back to the basics of true living – a sense of place, light, and a deep connection to the earth. Interviewed in Coast Modern are some of the most respected names in architecture, including James Steele, Barbara Lamprecht, Ray Kappe, Hernik Bull, Pierluigi Serraino, Michael Folonis, Dion Neutra, Douglas Coupland, John Cava, Barbara Bestor and legendary photographer Julius Shulman.
Coast Modern had its World Premiere at Vancouver's Doxa Festival in May 2012, to great acclaim and a subsequent sell-out second screening.
Info
Running time: 55:30
Format: HD
Directors: Gavin Froome and Mike Bernard
Producer: Leah Mallen, Twofold Films
Editor: Peter Rock
Press kit
Download a zip archive containing logos, promotional stills, and a synopsis.
For screening requests contact leah@twofold.ca.