CoMo pal Joe DeMarie in Los Angeles has Studio 2 of Rudolf Schindler's 1941 Bubeshko Apartments in Silverlake up for rent. We visited Joe at the complex and were truly blown away by the quality of light and sense of tranquility in these spaces.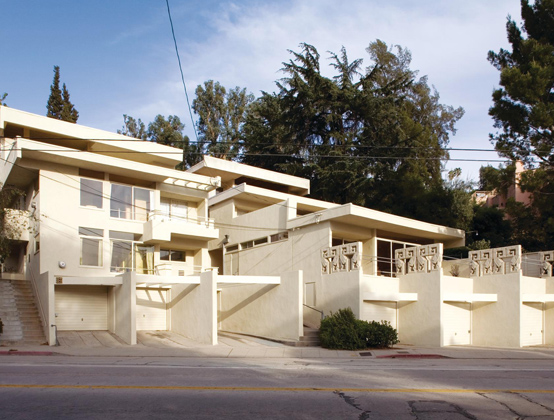 Details:
RM SCHINDLER MASTERPIECE – THE BUBESHKO APARTMENTS
One of the most the most beautiful LIVING /WORK spaces in all of Silver Lake is available for showing.
Garnering world acclaim, this masterpiece building was featured in the MOCA Schindler Retrospective. One of the architect's best-known multi-family designs. The Bubeshko Apartments have been immaculately restored to near original condition.
Dwell and/or work in this one-of-a-kind living artwork and LA landmark in the heart of Silverlake and one of the most intact/original of Schindler's works. A time-capsule to 1941 modernism and yet a timeless work of art.
• Private Terrace
• Mountain/Canyon/Sunset Views
• Designer appliances — d/w (Ashko), gas range (Bosch), fridge (Fisher-Paykel), disposal, A/C
• Beautiful soffit lighting throughout
• Spectacular natural lighting/sunsets
• Built-in closets/cabinets
• Private garage parking / storage
• Ivanhoe School District
• Walking distance to Gelson's, Trader Joe's, Sunset Junction, Silver Lake Farmer's Market (Saturdays)